In 1994, a blink of the eyes ago, I arrived for the first time in Hong Kong.
In those days, once you'd step out of the star ferry in Central Pier, you would be invited by several rickshaw drivers to take a ride in their rickshaw. They were all nice old men with big smiles, showing their golden teeth and dressed in the traditional Chinese fishermen's black cloths - exactly what I imagined when I read Richard Mason's
World of Suzie Wong
! While I was lost in thoughts and excitement, one of the old men approached me and gestured, inviting me to sit on his rickshaw so he would take my picture. He was too fast and I was too slow and before I could even decide he pushed me (in a nice way) to sit down and so I did giving him my camera. As he moves back to take the picture (as I thought he would), instead he lifts the rickshaw and starts pulling it and moving away with me sitting on it completely embarrassed to have a 80 year old man carrying me through the crowd. I did what I could possibly do to stop him, but he didn't listen. He just seemed happy and kept running and laughing.
And it was my only rickshaw tour experience, back in 1994.
Just two weeks ago, 11 years later, I took that same star ferry from Kowloon to Central and as I left the ferry and came out, there were no longer any old golden smiles. The only thing left from those days, is a rickshaw...
An empty rickshaw reminds us that, this moment soon will be gone!
Rickshaw with no driver - Hong Kong - Mar.2005

Restaurant in Hong Kong - Mar.2005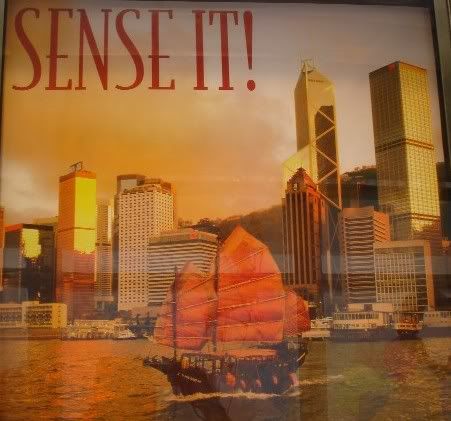 "Sense it!" - Hong Kong promotion campaign - Mar.2005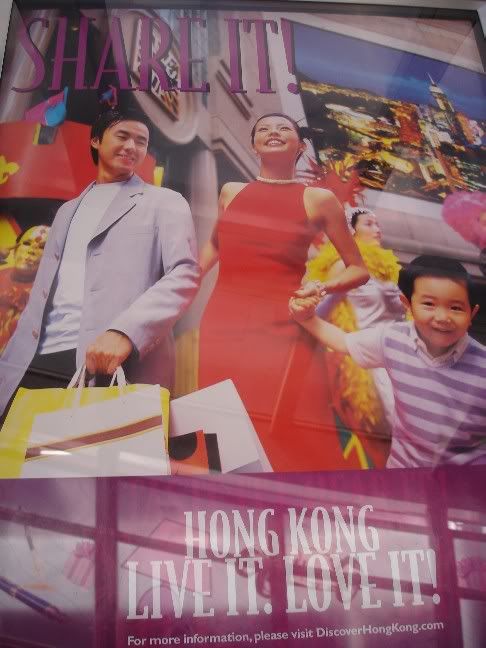 "Share it" - Hong Kong promotion campaign - Mar.2005