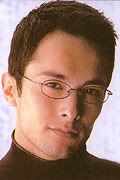 Today, they say, it's the Internet's 35th anniversary, congratulations for this achievement.
It is also a very specialy person's birthday, my brother Cedric.
Cedric is a person who does not just watch life passing by, he grabs it and lives it! A true brother in arms, a professional
model
with a very rich soul, who believes and shares with us messages like this one:
Se quanta que en el siglo pasado, un turista fue a Egipto con la finalidad de vistar a un famoso sabio.
El turista se sorprendo al ver que el sabio vivia en un cuartito muy simple, limpio y lleno de libros.
Las unicas piezas de mobiliarios eran una cama, una mesa y un banco.
"Donde estan sus muebles?" – pergunto el turista.
Y el sabio rapidamente tambien perguntou: "Y donde estan los suyos?"
"Los mios?" – se sorprendio el turista – "pero si yo estoy aqui solamente de paso!"
"Yo tambien…!" – comcluyo el sabio.
"La vida en la tierra es solamente temporal"
"Sin embargo, algunos viven como si fueran a quedarse aqui eternamente y se olividan de ser felicies.
El valor de las cosas no esta en el tiempo que duran, sino en la intensidad con que suceden.
Por eso existen momentos inolvidables, cosas inexplicables y personas incomparables!"
Cedric, una persona incomparable!
I wish you a very happy birthday with everything you wish for!