This movie is so beautiful for its simplicity, for the facial and body expression of the actress and for the landscape, a combination of all this with very little words, transmits to the spectator how is to discover, feel and lose LOVE....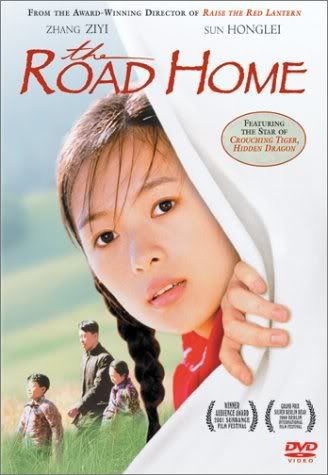 "The Road Home"
- Director
Yimou Zhang
Este filme e' uma historia simples que celebra a alegria inocente da descoberta do amor e a dor da tristeza da perca da pessoa amada. Aborda tambem realidades sociais e culturais da China de Mao, pobre e oprimida mas muito humana.
A natureza tem neste filme um papel principal, as paisagens e as estacoes do ano acentuam a alegria, o drama e a tristeza dos personagens.
A arte de representar da actriz
Ziyi Zhang
, e' de uma beleza extraordinaria.
Nao e' propriamente os dialogos que dao beleza e charme ao personagem interpretado por
Ziyi Zhang
, mas sim as expressoes faciais e corporais da atcriz que transmitem ao espectador um charme e serenidade contagiantes. As emocoes sao nos tranmitidas atraves dos seus olhares, que expressam de uma forma extremante bem conseguida, o amor, a alegria, a perca, a tristeza e a dor.
Para um resumo da historia click
aqui
.