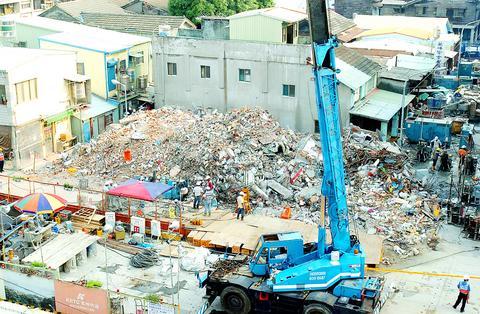 PHOTO: CHANG CHUNG-YI, TAIPEI TIMES
Crews work amid debris from several demolished buildings above the Kaohsiung MRT's Orange Line yesterday.
"The head of Kaohsiung's MRT system offered to resign yesterday to take responsibility for subsidence on Monday that led to the evacuation and condemning of surrounding buildings in the fourth construction mishap to hit the project in three months."
That would be too easy for you, "Mr. Head of Kaohsiung's MRT System", the captain does not abandon the ship when it has been severely damaged. The captain stays aboard finds out what caused the damage; repairs it and introduces preventive measures to avoid reoccurrence.
If you don't know this, "Mr. Head of Kaohsiung's MRT System", you probably should not have been in this position to start with!
I personally thing "Mr. Head of Kaohsiung's MRT System", should take the responsibility but still stay in the position until he has a full and detailed report of what went wrong and improve their management system accordingly aiming that this kind of
oooops
, will never happen.
Leaders are paid to make sure that businesses operate in safe conditions, they are not paid just to sit there and use and abuse of their title.
I remind you "Mr. Head of Kaohsiung's MRT System", that you should know this and ensure that your entire organization knows it and practices it:
"In the process of undertaking work within a tight programme there never seems to be sufficient time or money to ensure that the results are correct. However, on discovery of a major error or fault the resources to put it right are limitless."