The Construction Industry involves high risky activities and therefore the adequate planning and implementation of controls, from design to completed construction stages, is crucial to avoid non-foreseen accidents.
In this case, the construction of the subway system in the southern city of Taiwan Kaohsiung, something went wrong either at design and/or construction stages.
Often the approach to Quality Management dictates the success of a construction site.
Fortunately, no fatalities were caused by this incident, but there are certainly great lessons to learn from it.
It is always good to remember this basic principal, particularly in activities that have risks associated with them:
"In the process of undertaking work within a tight programme there never seems to be sufficient time or money to ensure that the results are correct. However, on discovery of a major error or fault the resources to put it right are limitless."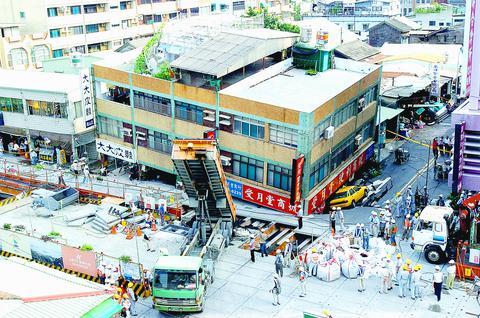 PHOTO: CHANG CHUNG-YI, TAIPEI TIMES
Underground work on the Shitzuwan station of Kaohsiung's MRT line caused subsidence that affected nearby buildings yesterday, causing them to sink by as much as one story. About 20 people fled their stores and homes as five three-story buildings on Linhai 2nd Road began to sink around 1:20pm. No one was hurt in the incident.