After the Euro 2004, it seems that 2004 Asian Cup Soccer tournament does not have little media's interest.
But anyway, it is happening right now in China, as I poublish this post.
The final is tomorrow: China vs Japan and it promisses more than just a sport competition!!!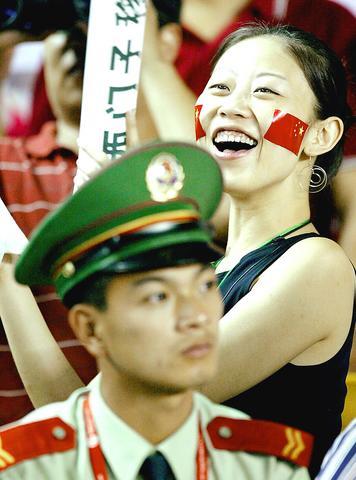 PHOTO: AFP
A Chinese paramilitary policeman watches whilst a fan enjoys herself at China's semifinal game against Iran during the 2004 Asian Cup Soccer tournament at the Workers Stadium in Beijing. Authorities said yesterday that they are taking no chances that the grudge Asian Cup final between China and Japan will turn nasty, drafting in more than 1,000 extra police to keep order.
From territorial claims, to war atrocities and outrage over sex orgies, tensions between China and Japan are never far from bubbling to the surface.
When China and Japan meet in the final of Asia's most prestigious football tournament in Beijing tomorrow, there will be more at stake than lifting the silverware -- national pride will be in play.