While some will be protesting and counter protesting over lost cases, the exciting and cheerful ones will be partying big time!!!
Have a look of what Taiwan has to offer you this weekend:
Ch
oice # 1
The Spring Scream weekend in Kenting (Taiwan) begins today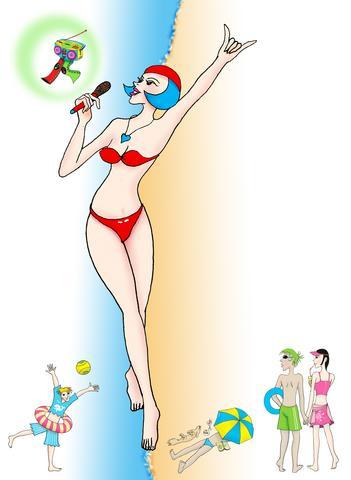 Though it gave its name to the weekend, the Spring Scream arts-music festival is by now almost incidental to the events it has spawned in Kenting, where parties on the beach and other dance-music events draw tens of thousands of young people for three days of fun that scandalize the nation.
The rave parties began four years ago with the first Moonlight party on Dawan beach and grew exponentially in scale the next year, when local and national promoters tried to capitalize on a cash business in a good location. It was perfect weather, there were many good parties, arrests, a drowning and livid coverage in the media. Breathless reporting about drugs, women in skimpy bathing suits, foreigners, gangsters and raids guaranteed coverage on the news at six, in popular dailies and the weekly Next Magazine.
DJ Victor, one of Taiwan's most respected DJs, said there was a problem with the perception of the Spring Scream weekend's associated events, which he said had become an important festival for young Taiwanese.
In a first for the town, there will be a "Kenting Freedom Parade" that intends to"break the wall of people's misunderstanding toward electronic dance music," according to DJ @llen. Chozie, Victor, Dark, Saucey and JJ will perform on a huge truck called the "Lovemobile." It's a free party down Kenting Road on Friday and Saturday afternoons until midnight.
Another good bet will be "Free for Fun," held on Baishan beach, 15 minutes from Kenting, on Friday and Saturday, from 2pm to 10pm, with DJs @llen, Dark, Victor and DJ. The organizer DJ Dark said it would be a free event (with voluntary donation to clean up beach), "because this is a vacation for me, to spend money."
"Love Shuttle" -- which features a converted 18-wheeler truck that unfolds, with the depression of one button, into a full size stage -- has managed to take the prime spot on Dawan beach in Kenting, from 3pm to 12pm. It starts Friday with DJ Noodle and Bigz, plus open mic MC battles, followed by Taipei-based DJs K Fancy, Em and Trouble. Also appearing will be the VoodooTech Crew, Cliff Vermette (the future sound of 2nd Floor), Freak Dudes, Spunite Production Crew, Connect Crew, DJ Reason, DJ Xiao Hei and live vocals from Angie and Marco.
Taichung DJs JJ and Tom, along with A100, Papillon, @llen and Saucey will be at B3, on the main street (#233-1), 10pm to 6am, NT$500 plus drink.
"Moonlight" will be back on the grounds opposite Dawan beach for the late night parties on Friday and Saturday, with most of the 2nd Floor and Luxy DJs, along with a few locals. Starting at 5pm and ending at 5am both nights. Expect to hear DJ Chono, Zero, @kira, @llen, Choyce Kutz & Dr. Who, among others.
There will also be "private parties" that are not going to be advertised, some in clubs, restaurants, bars and hotels, others at local beaches. Keep your eyes and ears open.
The Vinyl Word: Go with the flow.
For more details about the program clique
here
Choice # 2
The GREEN INTERNATIONAL FILM FESTIVAL (The GIFT)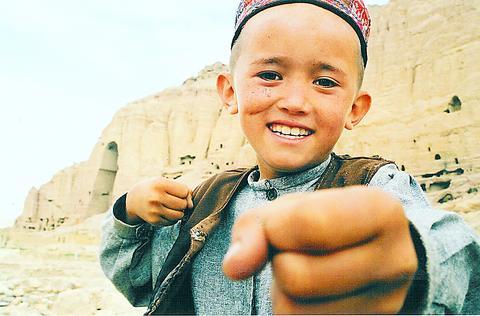 The Boy Who Plays on the Buddhas of Bamiyan, by Phil Grabsky, is a touching movie following the life of a little boy in Afghanistan.
For those who enjoy seeing films not just for entertainment but also for a deeper picture of the world, Green International Film Festival (GIFT, 宜蘭國際綠色影展) offers some movie treats.
The festival starts in Ilan this weekend, through to April 9. It features 30 local and international films about environmental protection, ecology and rethinking of globalization. The solid program and free admission to the festival makes the trip to Ilan worthwhile.
For more details about the program clique
here
Choice # 3
Same-sex comedy gives Taiwanese movies a lift: "Formula 17"
Directed by: Chen Yin-jung (陳映蓉)
Starring: Tony Yang (楊佑寧), Duncan, King Chin (金勤), Dada Liu (季宏全), Jimmy Yang (楊俊明), Jason, Chang (張大鏞)
Running time: 90 minutes
Taiwan Release: today
Language: Mandarin with Chinese subtitles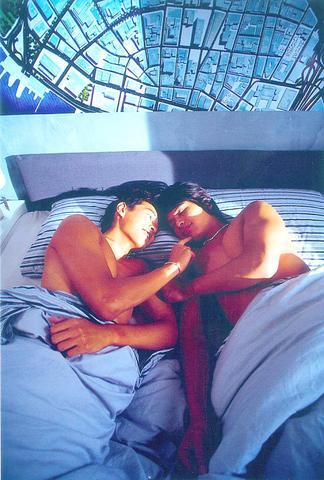 The Morning after: Tien (left, Tony Yang) is attracted to playboy Pai (Duncan) in the Taiwanese movie Formula 17
If Taiwan's abundant TV soap operas have finally achieved something it is that they have helped create pretty-faced pop idols for the movie Formula 17 (十七歲的天空). And some of them have the potential to become movie stars.
Formula 17 can be seen as one of those rare finds, not only because it is a gay romantic comedy, but it is also one of the few Taiwanese movies that discards the "tradition" of social realism. It is a commercial drama, sugar-coated with good-looking actors, bright colors, designer fashions and furniture. The movie does not intend to delve into deeper meaning about society or human feelings, as many other Taiwanese filmmakers try to do. As pure entertainment, it is indeed a different breed of Taiwanese movie.
Tien (Tony Yang, 楊佑寧) is a naive 17 year-old boy from southern Taiwan and goes to Taipei in search of his dream lover. He stays with his high school friend Yu (King Chin, 金勤), a popular DJ at a gay bar.
Under the instruction of Yu and his campy friends, Tien learns to dress up and tries a few blind dates. He meets Pai (Duncan), the most chased (gay) bachelor in town and immediately falls for him. But Tien's "sisters" all advise him to stay away from this dangerous attraction, for Pai is a well-known playboy who, unlike the naive Tien, does not believe in love.
Formula 17 is surely trying to create a gay utopian vision of Taipei where there are no women, no heterosexual men, only pretty-looking or muscular gay men in bars, fashion stores or men's gyms. The underlying theme is love and believing in love.
In contrast to many Western gay movies such as The Birdcage or The Adventures of Priscilla, Queen of the Desert, there are no mentions of drag queens or transvestite phenomena, though there are some characters who have exaggerated camp qualities.
The scriptwriter of the movie tries hard, sometimes too hard, to be funny. There are plenty of jokes, but the film director isn't quite able to pull them off. In some of the scenes, the actors look as if they are reading the lines instead of acting.
Fortunately, the good casting and good performances have saved the movie. Tony Yang, Duncan and three actors playing the gay roles have done decent jobs, especially Yang, who shows a different side to his TV drama work. After Formula 17, he could be taking up roles in bigger movies.
Review by By Yu Sen-lun, Taipei Times, 02 April 2003
Choice # 4
The second International Theatre Festival
with its theme of the spoken word continues this weekend, when local troupe Tainan Jen Theatre treats audiences to its colorful Taiwanese-language adaptation of Samuel Beckett's Endgame at the CKS Cultural Center's Experimental Theatre (Taipei).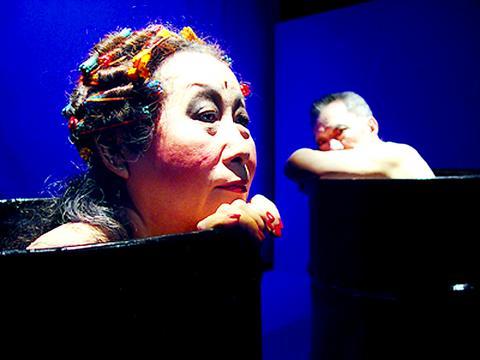 Tainan Jen Theatre will perform a Taiwanese-language adaptation of Samuel Beckett's play, Endgame, as part of the International Theatre Festival at the Experimental Theatre this weekend.
For more details about the program clique
here
.
Choice # 5
Protesting at Chiang Kaishek Memorial…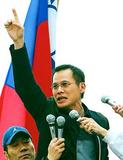 The pan-blue alliance yesterday said that it will hold another rally at CKS Memorial Hall tomorrow. The rally could attract as many as 50,000 people, the event's organizers said.
The rally is intended to "show the people's will," since the Democratic Progressive Party (DPP) disagreed with the pan-blues request to establish special laws regarding the assassination attempt on President Chen Shui-bian.
Ok, there is plenty to choose from, I already made it up my mind... so see you next week after recovery.
Have a great weekend!