O comportamento infantil de certos politicos deixa-nos a pensar se serao pessoas com capacidade de nos representar e de certa forma influenciar as nossas vidas.
Aqui na Asia e' frequente em certas culturas e regimes democraticos, os membros do paralamento acabarem as sessoes 'a porrada.
E' do conhecimento publico este tipo de cenas tanto no parlamento de Taiwan como no da Coreia do Sul.
Ontem, aqui em Taiwan discutia-se no parlamento, a compra de armas aos USA. O partido da oposicao, KMT, bloqueou a compra com o voto negativo e afirma que ficou ofendido com a declaracao de Colin Powell (Secretario de Estado Americano) em Pequim: "Taiwan nao e' uma nacao soberana."
Apesar de compartilhar os sentimentos do partdo da oposicao, o partido do actual governo, DPP, insiste na compra de armamento aos USA.
Resultado, nao chegaram a um acordo e acabaram a sessao 'a batatada, ou melhor 'a arrozada (ja que as armas que utilizaram para se atacarem mutuamenete foi nada mais nada menos que as lancheiras de arroz.
Coisas de democracias imaturas!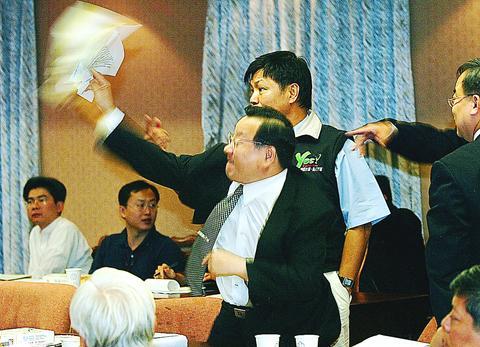 photo: Lin Cheng-Kuan, Taipei Times
DPP Legislator Chen Chong-yi yesterday throws a copy of the proposed arms procurement plan at opposition lawmakers as the legislature failed to pass the budget again due to the opposition's boycott.

Pan-blues block arms deal citing Powell's comments
The statute governing the arms deal with the US failed to pass the Procedure Committee yesterday as the pan-blue camp claimed they objected to the statute in response to US Secretary of State Colin Powell's statement that "Taiwan is not a sovereign state," and the meeting ended in confusion as the lawmakers from the two camps threw their lunch boxes and other items at each other to vent their frustration.
The pan-blue camp lawmakers boycotted the statute yesterday, saying that if Powell does not recognize Taiwan as a sovereign state, then Taiwan should refrain from buying weapons from the US.
By Debby Wu – Taipei Times reporter
Wednesday, Oct 27, 2004