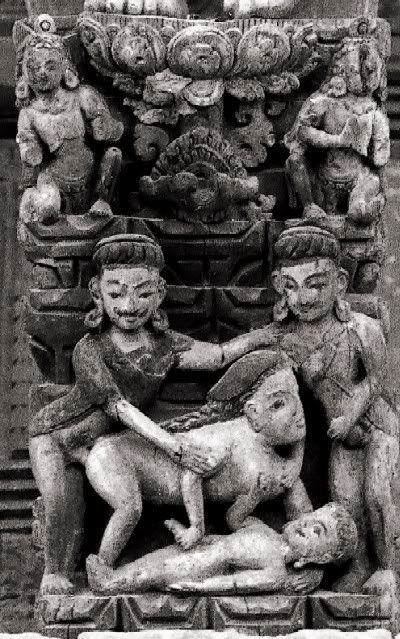 Os templos Hindus em Kathmandu, estao decorados com imagens esculpidas em madeira ou pedra, que chocam frequentemente mentes mais puritanas, levando-as a pensar que os deuses deviam estar loucos. Nada de mais errado que pensar assim, os deuses aqui celebram a vida na sua essencia!
Contrariamente 'a preversa e castradora religiao catolica, o hinduismo promove a satisfacao do desejo.
No Hinduismo, a relacao sexual e' a uniao do individuo com o universo!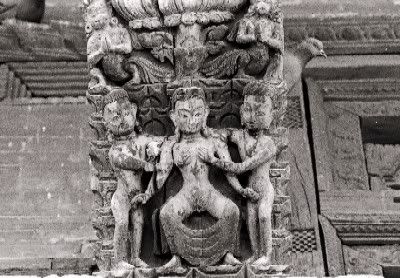 The word kama basically means "desire," and, hence, the Kamasutra is a book that helps facilitate the fulfillment of human desires. The essential message of the Bhagavadgita is devotion - complete and unconditional devotion to God - as the principal mode of attaining salvation. In order to gain salvation, however, one must first be motivated and, therefore, behind devotion lies the impetus of desire. The urge or the yearning to unite with the divine is no less passionate and intense than the desire of two lovers to unite. Hence, Indian religious thought has always recognized the parallel between sexuality and spirituality.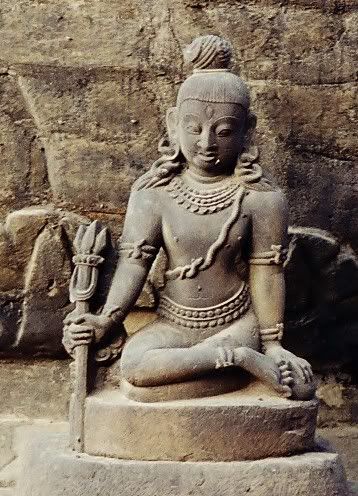 Na filosofia Hindu a expressao "Amai-vos uns aos outros", e' levada 'a letra!
photos by Nic, Hindu Temples @ Kathmandu, Nepal - April 2000