"There are two preeminent ancient religious cities in Southeast Asia: Bagan in Burma and Angkor in Cambodia. Both sites are notable for their expanse of sacred geography and the number and size of their individual temples. For many visitors Bagan is the more extraordinary of the two cities and this because of the view. The ruins of the more than one hundred Angkor temples stand alone and isolated in thick jungles, and only from the top of the tallest temples it is not possible to see others in the distance. Sprawling across a vast dusty plain, the ruins of Bagan are unhidden. There being no trees to obstruct the view, one may gaze over forty square miles of countryside, upon literally thousands of temples. In the early morning, from Sulamani Temple, or in the late afternoon, from Gawdawpalin Temple, the view is among the very finest the world has to offer."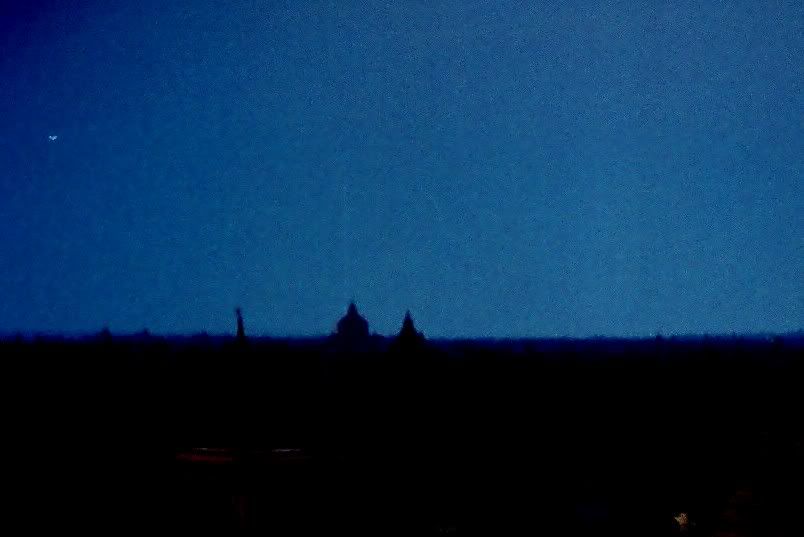 Ainda de noite, pela "fresca", partimos de bicicleta pela unica estrada daquele sitio, propositadamente construida para nos dirigir 'a terra das mil e uma pagodas, levando conosco a promessa de que o espetaculo oferecido pelo sol ao nascer, valeria o sacrificio do escaldante regresso.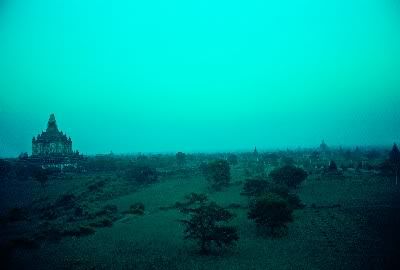 Ao fim de alguns quilometros, o escuro da noite comeca a desmaiar sob a pressao duma fonte de luz que se adivinha mais forte, mostrando-nos as primeiras silhuetas dum oceano infinito de pagodas.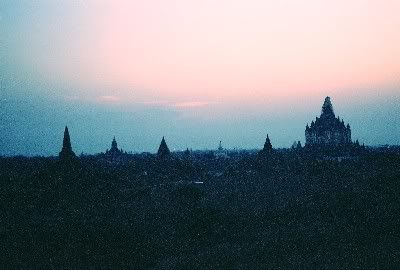 Essa fonte rompe finalmente o firmamento, numa explosao de vermelho, tingindo o azul.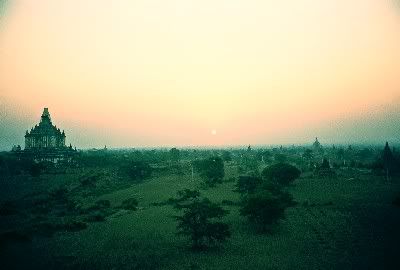 E em silencio absoluto que tambem se apodera de nos, a tela que nos cobre vai exibindo gradualmente e devagarinho, o seu espectro fantastico.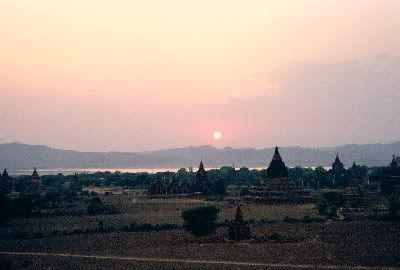 Sem saber bem, por qual verdadeira razao,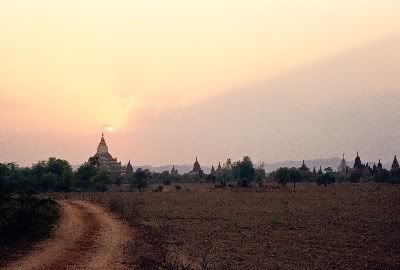 caimos em extase,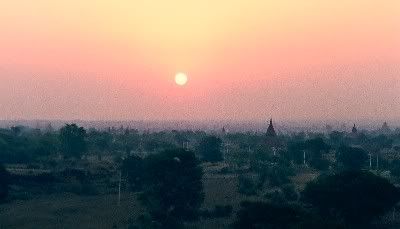 assistindo ao espetaculo vivo,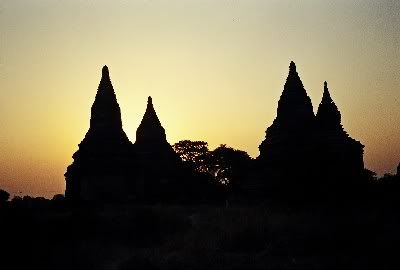 de cores,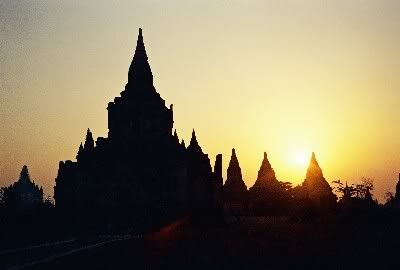 e de silhuetas,
que nos abraca e penetra por todos os sentidos, durante um periodo intemporal, ate' que o calor do sol nos acorda...
photos by Nic @ Bagan, Burma - April 1998