Choice #1 - Ruining parties and raising questions about the continued viability of cultural and entertainment events…
The annual party weekend in Kenting took place with all the revelry and police intervention that by now are expected
Over 30 arrests for drug possession at parties in Kenting over the weekend and
an alleged assault by a police officer on a DJ ruined the party for some and raised questions about the continued viability of the annual event given the heavy-handed policing.
There were two arrests on Friday, but one offender got away, and 30 on Saturday night, mostly after 12pm when officers from Kenting, Hengchun, Pingtung and other areas raided parties taking place around the resort town. Plainclothes officers were also drafted for the operation.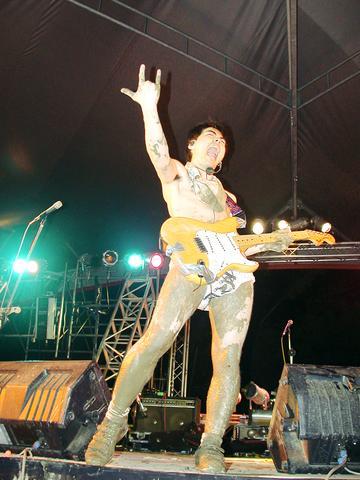 For those who didn't get arrested it was a party-filled weekend. The weather was kind, despite forecasts of rain, with an early afternoon shower early on Saturday, clear weather afterward, and bright blue skies on Sunday. The atmosphere was generally relaxed and most people went on hikes, surfed or played watersports at nearby Nanwan beach when they weren't clubbing, or snacking on the main street and buying trinkets.
The free Love Shuttle event, on an 18-wheeler truck, was a success, as were the free parties on three nearby beaches, even if one called Moonlight was buffeted by wind on Friday and by police the next night.
The Love Parade through town with DJs @llen and Chozie was the best event. Their truck had, arguably, the best music and it was followed by another van packed with women dancing so enthusiastically that the vehicle shook to the ground and bounced up off its axel. That was followed by a "Dominatrix" on stilts wearing a skin-tight black suit, with studs, and a curved dildo so big it frightened everyone.
The original Spring Scream arts-music festival in the hills outside Kenting held its 10th birthday with a charming evening that peaked with Dynamite, from New York. They were led by the energetic Kitano, who is Japanese and was happy to strip to his underwear and then roll in the mud, still playing and singing. The Ilan-based foreigner trio Daymakers as a rhythm section are great, but they were even better with a frontman, in this case a woman in a small black dress who didn't sing but danced really well. I also liked the innovative DDDAO, two guys from Japan who make sounds with one PDA and a mic.
No arrests were made at Spring Scream, which finished every night for the past nine days at midnight. Spring Scream co-founder Jimmy Moe said he was saddened, but not surprised, that there had been trouble at the other, predominantly dance-music and hip-hop events that took place.
"The police have been here eight to 10 days, about 20 to 30 of them all in all. We don't mind. We want everything safe. At midnight we close and they run off to arrest the baddies," Moe said.
"It's too bad that our Spring Scream name has been expanded to cover the whole weekend. Yes, it's a great name, but a shame that it has become associated with raves and busts and stuff like that. We worked for 10 years to develop a live music and arts festival in Kenting and what should be called the `spring break weekend' has come to be known as the `Spring Scream weekend.'"
About 1,500 people were at Spring Scream on Saturday night and about 5,000 people attended the other events over the weekend.
This was less than previous years and there were vacancies at some hotels.
On Friday night, four events that were given permits were raided and a Kenting police officer said there was one arrest and one other incident, but the suspect escaped.
Soon after the Love Shuttle party finished without incident at midnight Friday, a DJ was allegedly put up against a wall and hit by police.
Wu Pei-hao, aka DJ Vertigo, was allegedly held by police and then forearmed in the neck during a search of his hotel room.
Police in Kenting confirmed that a formal complaint of an assault by police had been made. They also confirmed police had conducted a search of a motel room, but said the search had been legal as there was suspicion of drug possession. They denied there was any violence, and said there was no evidence of this.
Wu said three friends witnessed the attack. "I went to my room to put away my records when about 15 police officers showed up. They just treated me in like a gangster style, they just pushed me around," he said.
"Then two guys put me up against the wall, and as they held me, one hit me with his arm. It hurt. They held my friend too. They checked all my things and even the garden. They didn't find anything, so they went away."
Love Shuttle promoter Alan Hsia said the attack happened when police had called him down to the lobby of the motel and warned him against running another party.
"They bum rushed his [Wu's] room when they were talking to me They were very threatening. We started to take pictures of the cops. They said it was not permitted," Hsia said.
When asked about the alleged assault, a Kenting police officer surnamed Hsu said: "This case has been dealt with." He denied any assault by police officers.
He also said the Love Shuttle party was illegal, as it had no permit and this was why the promoter and DJ were warned not to go ahead with another event.
Hsia said there had been an agreement for the event to go ahead.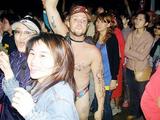 Yesterday morning Hengchun police reported 30 arrests the previous night for drug possession, including cannabis, ketamine, MDMA and "date-rape drugs" similar to rohypnol.
At the Hengchun police station, two cardboard boxes containing over 60 urine sample jars, with a thumbprint and details on each could be seen. One foreign national who was being detained in a room was told he had to submit to a urine test. While he was waiting for a translator he said, "Isn't this against human rights?"
Police at the station said the 30 cases were being processed quickly, as the law stipulated they could not hold the suspects longer than 16 hours.
By Jules Quartly - Taipei Times
Choice #2 - Running out of patience with the protesters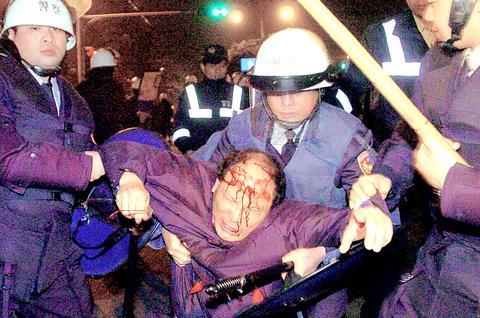 Police began to break up the crowd of about 1,200 at about 1:30 am yesterday. The move came after the crowd was warned five times to leave and protesters trampled security fences outside the Presidential Office.
"Since it was the
Taipei Police Bureau which approved the rally
, I think it is also up to the bureau whether to cancel the rally."- said Ma Ying-jeou, Taipei mayor.
After Chungcheng First Precinct Chief Wu Su-lu (吳思陸) gave the order, nearly 1,500 police officers equipped with helmets and shields pushed forward, clashing with the crowd, which threw bottles, flagpoles and traffic signs at police.
The police carried or dragged away people who refused to leave the scene. About 15 people and three police officers suffered injuries and about 150 people were arrested.
Some of those who fled to the Chinese Nationalist Party's (KMT) headquarters were also arrested. Most of them were released after interrogation.
Unlike when police dispersed a crowd on March 28,
police appeared to be running out of patience with the protesters yesterday morning and shouted back at those trying to provoke them
.
Ma said he felt sorry to see protesters and police injured. He said the bloodshed was the result of protesters who were not organized, adding the situation was more complicated than at the rally the week before.
"We are still unclear about who caused the turmoil. But it was fortunate that only a few people were hurt and their injuries were not serious," he said.
Ma said he asked police to use shields and batons to disperse the crowd rather than water cannons, because water cannons would have led to a more severe outcome.
By Jewel Huang - Taipei Times