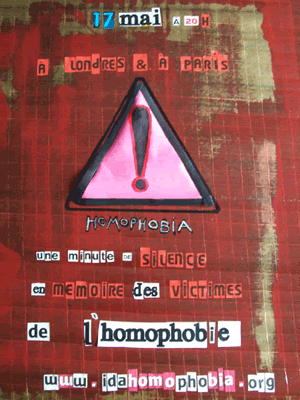 Nao querendo ser este post uma analise completa da origem e da gravidade do comportamento homofobico, serve como nota introdutoria a uma reflexao que todos nos cidadaos e governos deveriamos ter, com o objectivo de travar a propagacao e a aceitacao de comportamentos nocivos e doentes, muitas vezes nao reconhecidos / admitidos como tal, por aqueles que teem o poder de influenciar e educar as sociedades que lideram.
Para se tentar eliminar a homofobia, e' necessario primeiro conhecer as suas causas e depois tentar elimina-las:
Causas internas ao individuo:
Contrariamente 'a maioria das fobias identificadas que sao causadas por stress pos traumatico, a homofobia nao e' em geral originada por factores externos ao individuo.
Estudos cientificos (
Repressed Homosexuality Could Be Root of Homophobia
) revelam que a homosexualidade recalcada por estar na origem da maioria dos casos de comportamentos homofobicos.
"Unfortunately, homophobia is a particularly "intractable prejudice" because it involves issues of sexual identity and sexual orientation-both issues concerning the body. Consequently, bigotry directed at gays and lesbians may be a deeper phenomenon than either anti-Semitism or racism. As a child grows, he or she learns about his or her body before learning about other people.
Psychologically, the homophobic activity represents externalization of the homophobe's self-hatred, of his hostility toward something that lies within himself."
from
here
by Leon Hoffman, M.D., chair of the American Psychoanalytic Association's Public Information Committee
Causas externas ao individuo:
Nancy Chodorow* aponta tambem a (ma) educacao onde existem 'a partida "discriminacaoes primitidas" reinforcada por modelos de normalidade preconceituosa de origem religiosa.
"It is our absolute polarization of sexual orientation into a single homosexuality and a single heterosexuality that leads us not to notice the great variety of homosexualities and heterosexualities, the particularity of individual object choice and sexual fantasy."
from
here
by sociologist and psychoanalyst Nancy Chodorow(*) of the University of California, Berkeley
De forma breve e para concluir, arrisco a apontar a EDUCAÇÃO, como catalizador essencial, para neutralizar este comportamento acidico tao enraizado em muitos individuos (por razoes pessoais mal resolvidas) e muitas sociedades (por razoes culturais e religiosas que condicionam comportamentos).
Nota:
Imagem gentilmente roubada 'as
caccaocinas
que nos convidam a assinar a peticao
"For an International Day Against Homophobia (IDAHO)"
aqui
.