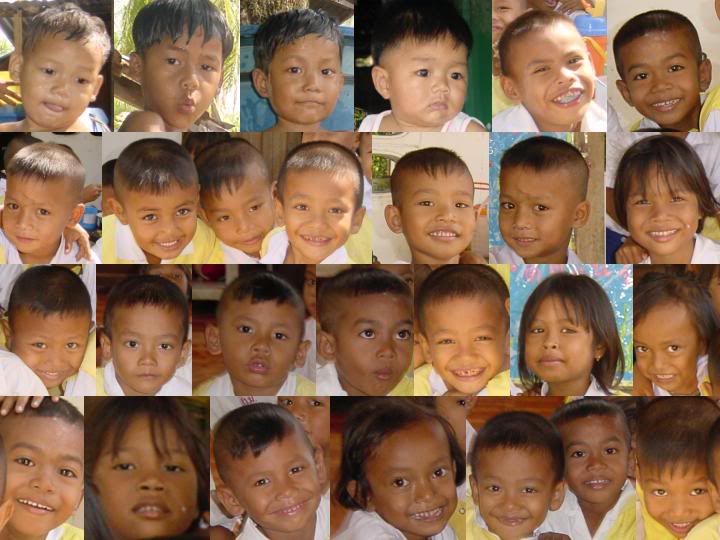 Varias vezes (
aqui
,
aqui
,
aqui
,
aqui
,
aqui
e
aqui
) vos tenho falado das criancas da ilha Tailandesa de Koh Phra Tong. Desde o dia em que as vistei pela primeira vez em Fev. 2003, que nao as esqueco, nao como casos unicos de sobrevivencia ardua, mas como simbologia de todas as criancas, para as quais a vida nao e' facil desde muito cedo!
Para alem da vida dificil que estas criancas ja tinham, tudo se tornou inacreditavelemnte pior na manha de 26 Dez.2004.
Como tenho vindo aqui solicitar ajuda especifica a estas criancas, sinto que devo ir dando noticias, 'a cerca do que se esta' a passar por la' e de como e' que a nossa ajuda monetaria tem vindo a ser empregue.
Felizmente, estas criancas nao foram abandonadas 'a sua sorte e tiveram e vao tendo pequenas ajudas.
Lembro-vos da associacao de caridade,
www.kohphrathong.com
, constituida pelo Fabio e amigos, que continua a angariar fundos para ajudar os habitantes da ilha de Koh Phra Tong a reorganizar as suas vidas, reconstrucao das aldeias, compra de material de pesca e materias escolares.
O project continua e os resultados sao actualizados la no site.
Esta associacao continua a aceitar contribuicoes monetarias, podendo o fazer no proprio
aqui
.
A T-shirt oficial desta iniciativa, contem um OBRIGADO, em portugues, a pensar em si!
Obrigado em nome de Koh Phra Tong!
Paralelamente 'a associacao do Fabio, formou-se tambem a "
North Andaman Tsunami Relief
", cujos objectivos sao:
"provides assistance to tsunami impacted coastal communities on and near Koh Phratong. We emphasize a community-driven process, and cooperate with other parties involved in the relief effort to work toward long term sustainability for these communities.
Provide (emergency, mid and long-range) assistance to ensure that tsunami survivors have access to food, education, healthcare, and can rebuild and/or diversify their livelihoods."
E' daqui, "
North Andaman Tsunami Relief
", que recebo as noticais actualizadas, e contam-nos e mostram-nos como e' que os nossos amiguinhos de Koh Phra Thong estao:
"The village of Bak Jok is one of three villages on the island of Ko Phra Thong. The effect of the tsunami in this village was severe: from a population of 387, 48 people perished and another 11 were injured. In addition, all 88 of the houses were destroyed and most of their fishing gear, including 15 boats, was destroyed. As a result, the residents of Bak Jok are living in plywood housing units constructed at the mainland pier near Kuraburi. It is still unknown at this time as to whether they will be able to return to the island to rebuild. Many have chosen to re-settle on the mainland instead. Since the tsunami impacted the ability of parents to generate income it is difficult for them to fund Junior High or High School level education for their children. The goal of this project is to provide long term financial support so all of the children can continue their education through Grade 12. The costs include transportation expenses, school fees, school lunches, four school uniforms (PE, athletic, religious, class) and other supplies (books, paper, pens etc.) Project Status: Seeking Funding Funds Needed for Project - 26 children through Grade 12: 2,679,400 Baht (US$68,700)"
Photos from "
North Andaman Tsunami Relief
":
Hope
Somebody is missing...
We will smile again...
Thank you / Obrigado