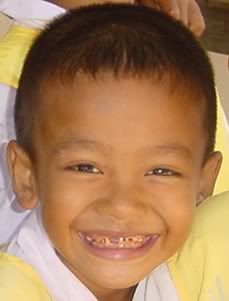 A child smiles at a primary school - Koh Phra Thong, Thailand - Feb.2003
See this child's village
here
.
Extracted from
Lost Horizons
website where you can track Koh Phra Tong island's status:
The impact on the island:
"There are three villages on Koh Phratong: Tapa Yoi, Bak Jok, and Tung Dap. Of these, Bak Jok and Tung Dap have been completely destroyed. Other severely affected villages in the area include Baan Talae Nok and Hat Praphat. The villagers have lost not only homes, but their fishing boats - the main source of food and income for most families. These families rely almost completely on the sea for their survival, there is very little farming, cottage industry, or tourism in the area."
You help will make a difference:
You can volunteer to give a hand:
"It is my understanding that Golden Buddha is ready for volunteers to help with the reconstruction. Please email reservations@goldenbuddhabeach.com if you would like to volunteer to help rebuild the resort. In addition to general help, the resort (and then the relief project) will need bilingual people, clerks, and those with construction skills.

For those that are interested working with the villages, we will have a volunteer program up and running as soon possible, but it will take a few weeks to set up. Any one interested, please email LHtravel@inet.co.th.

It is my understanding that there are many volunteers in Thailand looking for things to do. If you know any of these people, please have them email LHtravel@inet.co.th."
Bodhi – Golden Buddha Beach
Or/and you can make your contribution here to help Bak Jok and other villages recover from the Tsunami damage.
For more information related to Koh Phra Tong click
here
.
For information related to other affected areas, click
here
.