O tufao foi-se embora mas o caos continua. As chuvadas sao intensas ao ponto de tornarem as autoestradas em autenticos rios de caudavel e correntes consideraveis. O ceu esta cinzento carregado, nao havendo qualquer sinal que exista uma estrela proxima de nos que se chame sol. A trovoada e relampagos sao mais assustadores que um bom filme de terror, pois desde ontem 'a tarde (ha' 24 horas) que os raios caiem frequentemente por toda a parte bem perto, seguidos de estrondos de rebentar os timpanos e de fazer tremer o predio todo.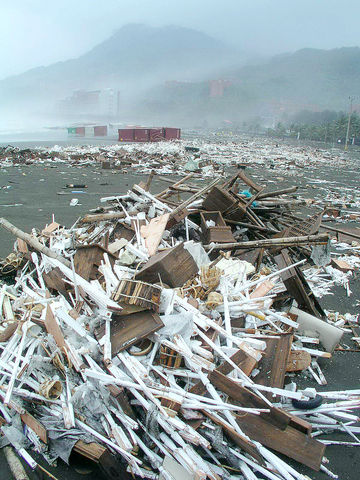 Although the storm became weaker than was originally expected, the weather bureau warned that Taiwan was not out of the woods just yet
PS. 4 vitimas mortais e' o balancao ate'agora.