O Longwang (Rei Dragao em Mandarin) fustigou ontem a Formosa, com chuvas fortes e ventos na ordem dos 230 Km/h (intensidade semelhante ao do furacao Katrina). Este tufao teve a particularidade de chegar 'a ilha quase em simultaneo com um sismo de 5.4 na escala de Richter, deixando os habitantes da costa ocidental em panico e hesitar entre o sair das suas casas e expor-se a ventos ciclonicos ou ficar em casa sujeitos a uma eventual derrocada.
Felizmente Taiwan aguentou-se bem e os estragos foram minimos, tendo-se contudo, registado 1 morte.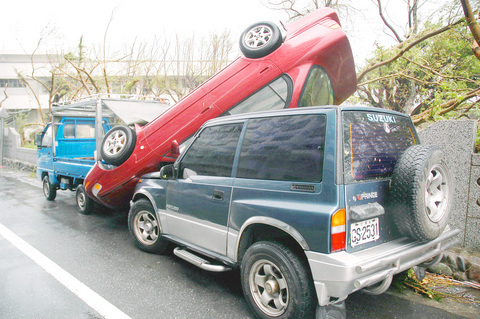 photo by Yu Tai-Lang - Taipei Times
A sedan car lies upside-down on top of a mini van on the side of a road yesterday in Hualien after Typhoon Longwang lashed the city.
Longwang - Mandarin for "dragon king" - made landfall near Hualien at 5:15am yesterday morning, packing winds up to 230km/h, comparable to those of Hurricane Katrina.