Morreu Faina Chiang Fang-liang, a unica primeira dama nao chinesa, duma nacao culturalmente chinesa.
"She displayed the virtues of a traditional Chinese woman - she was a good mother and a good wife who always put her family before everything else."
Actual Presidente de Taiwan, Chen Shui-bian
Taiwan's Soviet-born former first lady Faina Chiang Fang-liang (蔣方良), widow of the late president Chiang Ching-kuo (蔣經國), died of pulmonary and cardiac failure in Taipei Veterans General Hospital at 12:40pm yesterday. She was 88.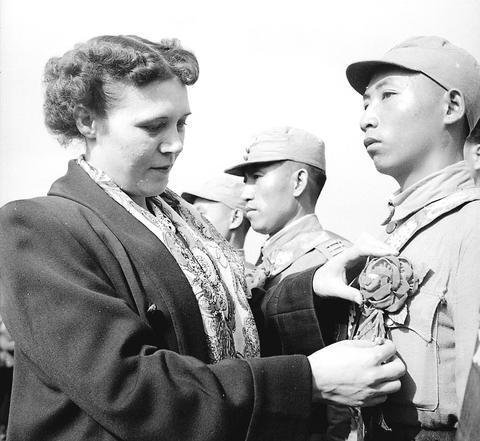 photo:AFP
This photo dated Dec. 31, 1951, shows Faina Chiang Fang-liang at an unidentified military ceremony in Taiwan.
Born Faina Epatcheva Vahaleva in Sverdlovsk, Siberia (now Ekateringburg, Russia), Vahaleva was orphaned at a young age and raised by her older sister Anna. An outspoken member of the Communist Youth League, Vahaleva met Chiang Ching-kuo at the age of 16 at the Ural Heavy Machinery Plant in Siberia, where Chiang was working in exile after his father, Chiang Kai-shek (蔣介石), purged the leftists from the Chinese Nationalist Party (KMT).
Vahaleva married Chiang Ching-kuo (Chiang Kai-shek's son and former president of Taiwan 1978-1988) two years after they met, on March 15 1935, when she was 18.

Few first ladies in history stand out as being influential. Soong Mayling of the ROC, the US' Hilary Clinton and Eva Peron of Argentina are perhaps exceptions, but unlike them, Chiang Fang-liang endured a life away from her home country, and coped with being placed in the awkward position of being the first lady of an anti-communist nation when her own country was the proselytizer of world communism. And she lived out her final years alone, with her remaining daughter living in the US and most of her friends having passed away.

Chiang Fang-liang lived her life with the weighty crown of first lady. While she never enjoyed the glamour associated with the title, she will be remembered for her stoicism.