SRAS / SARS
A China isolou mais de 600 pessoas em Pequim, como forma de combater um surto de SRAS proveniente dum laboratorio e de evitar uma propagacao rapida do virus, ja' que dezenas de milhares de pessoas se deslocarao dentro do pais durante o proximo fim de semana festivo do dia do trabalhador.
China has isolated more than 600 people in Beijing as it races to sever a chain of SARS infection that leaked from a laboratory and could spread as tens of millions travel the country for the annual May Day holidays.
China diz ainda nao 'a democracia para Hong Kong / China says not yet to democracy in Hong Kong
'A cerca da rejeicao de um sistema democratico pleno para Hong Kong, a China respondeu aos EUA e 'a ex-colonizadora Gra Bretanha, para se ocuparem dos assuntos que lhes dizem respeito.
"Nos somos Chineses. Teem alguma duvida 'a cerca disso? Hong Kong e' o Hong Kong da China"
, disse ontem o Ministro dos Negocios Estrangeiros, Li Zhaoxing (李肇星), aos reporteres em Xangai, depois de Washington e Londres terem criticado Pequim pelo seu bloqueio 'a reforma politica.
China has told the US and former colonial master Britain to mind their own business over its refusal to allow full democracy for Hong Kong any time soon.
"We are Chinese. Are you clear on that? Hong Kong is China's Hong Kong"
, Foreign Minister Li Zhaoxing (李肇星) told reporters in Shanghai yesterday after Washington and London criticized Beijing for blocking political reform.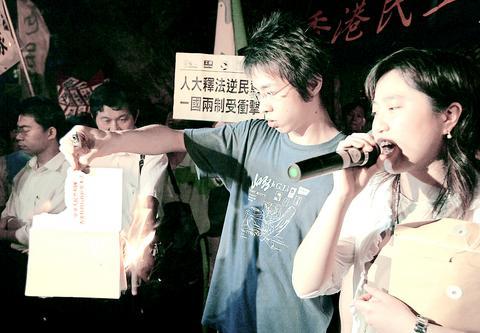 PHOTO: REUTERS
Militantes pro-democracia, queimam uma copia da presente Constituicao de Hong Kong "Basic Law", na passada segunda feira em frente ao parlamento de Hong Kong, como protexto da China ter bloqueado reformas politicas.
Na passada segunda-feira, o parlamento da China removeu todas as esperanca de Hong Kong avancar rapidamente em direccao 'a plena democracia, afirmando que os residentes da antiga colonia britanica nao poderao eleger directamente os seus lideres e legisladores nas proximas eleicoes de 2007 e 2008.
Pro-democracy protesters burn a copy of the Basic Law during a protest against China's decision on local political reforms outside the government house in Hong Kong on Monday. China's parliament dashed hopes in the territory for a speedy move to full democracy on Monday, saying residents in the former British colony will not be able to directly elect their leader and all lawmakers in 2007 and 2008.