23/04/04
- China confirms four SARS cases, probes woman's death.
A Chinese woman has died of suspected SARS, health officials reported yesterday, along with news that two more cases of the virus had been reported around the country, bringing the total number of infections to four.
24/04/04
- Masks are back!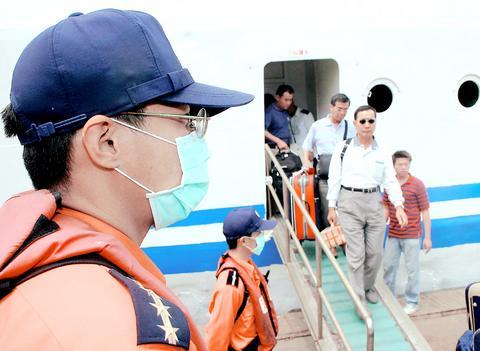 PHOTO: CNA
Security officials in Kinmen (Taiwanese island close to China's coast) immediately put on their masks after the Chinese government reported two suspected cases of SARS in Beijing and Anhui Province late Thursday evening.
25/04/04
- China seals off SARS lab after infections
26/04/04
- China supplies N Korea with aid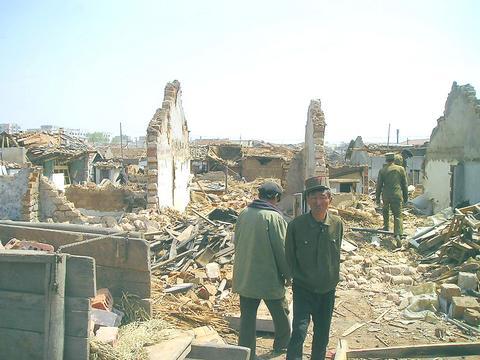 PHOTO: AP
People stand in the rubble of houses on Saturday left after the train explosion in Ryongchon, North Korea.
27/04/04
- No democracy yet, China tells Hong Kong
ASSERTING AUTHORITY: The decision by the Standing Committee of the National People's Congress to stamp out hopes for democracy is expected to fuel resentment.
China's National People's Congress (NPC) yesterday dashed the hopes of Hong Kong people to directly elect their leaders in polls in 2007 and 2008, reinforcing Beijing's full control over democratic progress in the territory.
PHOTO: REUTERS
Pro-democracy protesters and lawmakers march to China's representative office in Hong Kong, demanding direct elections of the chief executive and the Legislative Council, yesterday. Senior parliamentarians in China gathered yesterday for a meeting on political reform in Hong Kong and were expected to reinforce Beijing's control over how and when leaders in the former British colony can be chosen.
27/04/04
– The American Institute in Taiwan (AIT) calls on Taiwan to heed threats
CROSS-STRAIT TENSION: The deputy director of the AIT, David Keegan warned Taiwan against changing the status quo, saying China's threats are real, while telling Beijing to refrain from using force or coercion.