There are plenty of reasons to visit this beautiful, green, arty and clean beer city:
1 – Munich's OLD and well preserved architecture and museums:
2 - Munich's modern architecture:
3 – Munich's relaxing and cool people:
4 – Munich's beautiful and enormous parks.
Scenes of the English Garden - Europe's largest city park (5km x 1.5km) is the place for nude sunbathing, as well as your everyday strolling, boating and imbibing Pilsner in a beer garden.
5 – Munich has art every where and their heroes are well represented and present in public places:
6 – Munich's roofs are often guarded, there is an entire population up there: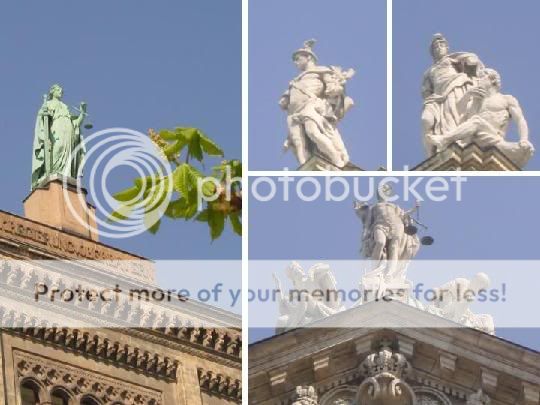 7 – And of course beer, is one of the things you can't miss in Munich. October is not the exclusive month to visit a Beer Garden, they are there all year around:
8 – No matter how you choose to visit the city, you will most likely, have a great time, but cycling is probably the best way as there are cycling paths all over the city and parks and it is the most popular means of transportation used by the locals.
I strongly recommend it for the art lovers, beer lovers, shopoholics and peoples' lovers For more information about Munich, click
here
.