Yesterday was Taiwan's national day and the president announced to the nation a message of hope for peace: the proposal to reopen talks with main land china.
The president's new position has moderated his previous views and it has brought hope for a more stable future for the Taiwanese people.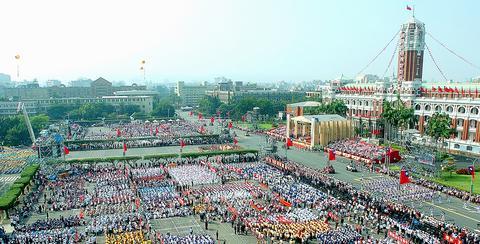 photo by George Tsorng, Taipei Times
Thousands of people celebrate the Republic of China's 93rd National Day yesterday in front of the Presidential Office in Taipei.
photo by Sean Chao, Taipei Times
President Chen Shui-bian waves to the public in front of the Presidential Office after making a speech at the Double Ten National Day Rally yesterday.
"In a highly-anticipated speech yesterday, President Chen Shui-bian suggested both sides of the Strait could use a 1992 meeting in Hong Kong as the basis to return to the negotiation table for a new round of cross-strait talks.
Stating that the governments and people on both sides of the Strait hold different views on many issues, some of which is due to a lack of communication, Chen said he is willing to take the initiative."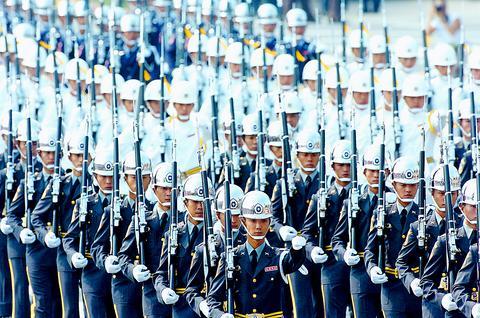 photo by Sean Chao, Taipei Times
Armed forces members march in precise formations.
"While extending goodwill toward Beijing, Chen, however, also stressed the necessity for the nation to maintain a self-defense capacity, pointing to the increasing number of missiles China is aiming at Taiwan.
According to Chen, there are at the present more than 600 ballistic missiles targeting Taiwan with the number to grow by 50 to 75 missiles each year.
"The `shadows of terror' and `forces of darkness' not only directly threaten the peaceful status quo across the Taiwan Strait but also undermine regional stability and global security," Chen said."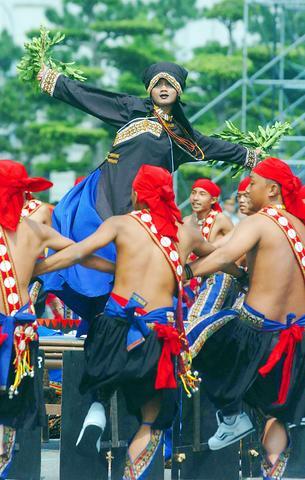 photo by Chiang Ying-Ying, Taipei Times
The other ethnic side of Chinese Taiwan:
Students from Pingtung County's Neipu Agriculture Vocational School perform a Puyuma Aboriginal dance in sensible athletics shoes.
"Stating that it is indisputable that the Republic of China is Taiwan and Taiwan is the Republic of China, and that the sovereignty of the Republic of China is vested with the 23 million people of Taiwan, Chen yesterday also spoke of Taiwan's unfair treatment in the international arena and Taiwan's exclusion from the UN."
For my Portuguese friends, the newspaper "O Publico" published yesterday a very comprehensive article (kindly sent to me by Luis Mendes) illustrating the recent past and current political Formosa's situation.
Check it out
here
.