Last saturday, 22 May 2004, while I was in Hong Kong, some amazing Hong Kong people were away. They were at the 57th Cannes Film Festival, to show their value as artists who reached an international level of recognition.
Maggie Cheung (張曼玉) gave an emotionally-strong performance as a junkie pop-star mother in Clean directed by her French ex-husband and was rewarded with a Best Actress prize. "He is the director who understands me the most," she said. "Because you know we were very close."
The 39-year-old Chinese actress, who has starred in several films by Wong Kar-wai, notably in the 2000 movie In The Mood For Love, made a name in the West in 1992 in New China Woman.
She recently starred in Hero, Zhang Yimou's (張藝謀) mega-martial arts production starring Jet Li (李連杰).
And the Best Actress award goes to a lovely woman, who I had the chance to meet and chat with: Maggie Cheung.
Maggie, we are proud of you!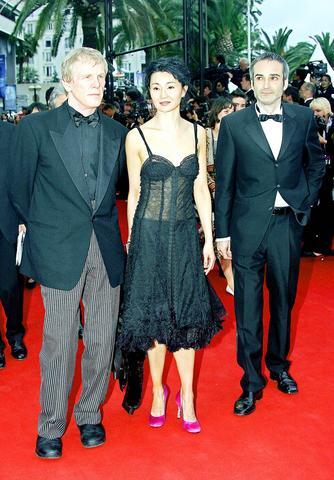 photo: Taipei Times agencies
Hong Kong's Maggie Cheung, center, Nick Nolte from the US, left, and French director Olivier Assayas arrive for the closing ceremony of the 57th Cannes Film Festival, in the French Riviera town. The Cannes film festival jury, led by Quentin Tarantino, announced Cheung as Best Actress during a celebrity-studded awards ceremony, the climax to the festival's week-and-a-half of screenings, soirees and star appearances, attended by 15,000 movie types and journalists.
And speaking about Hong Kong's quality cinema, the Wong Kar-wai (王家衛) movie "
2046
" (the most-liked movie by a worldwide panel of critics listed in the film industry magazine Screen International), didn't get the top prize because the world today needs all means to cry even louder and make sure that things will REALLY change for better.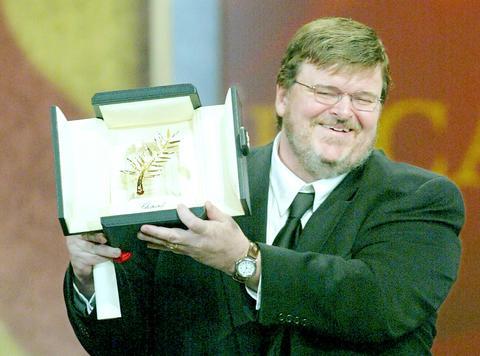 photo:AP
American film director Michael Moore holds the Palme d'Or trophy he received for his documentary Fahrenheit 9/11 during the award ceremony of the 57th International Film Festival in Cannes, southern France, on Saturday.
When it came down to the wire, politics nudged art off center-stage, giving Michael Moore's anti-Bush documentary "Fahrenheit 9/11", the Palme d'Or best film award.
The anti-Bush documentary will almost certainly get a distributor now that it has won the Palme d'Or, after being blocked by Walt Disney Co.
Advertising US director Michael Moore's Fahrenheit 9/11, a savage indictment of US President George W. Bush's handling of Iraq and the war on terror, won the top award at the Cannes film festival on Saturday.
"I have this great hope that things are going to change," said Moore after tearing into Bush with his emotion-charged documentary in the run-up to November's presidential election.
The same panel was cool about Thailand's debut Cannes film, Tropical Malady by Apichatpong Weerasethakul, though the jury, along with a few French critics, were over the moon about the two-part avant-garde tale featuring gay romance and a walk through the night jungle on the tracks of a mythical tiger.
"My film is so personal I'm not sure how well it will travel," Apichatpong told journalists. "But I hope this will encourage other Thai filmmakers."
Also in the limelight at Cannes was China's Zhang Ziyi (章子怡), the former Crouching Tiger, Hidden Dragon star listed as one of People magazine's 50 most beautiful women in 2002. She was breath-taking both as a blind warrior in the out-of-competition House of Flying Daggers and as one of the four women in 2046.
The much talked-about Flying Daggers is Chinese auteur Zhang Yimou's second foray into the popular epic martial arts after Hero of 2002. Also at Cannes and also liked was Johnnie To's action movie Breaking News.
Asian film, which is grabbing an ever-growing share of Cannes, festival after festival, this year accounted for six of the 18 films competing to win the coveted Palme d'Or trophy.
Japan and South Korea each had two movies in competition for the prize, and each scored prizes, bolstering hopes for their buoyant local industries.
South Korea is one of the few countries outside the US where domestic productions outnumber foreign films in box-office takings, and Old Boy by director Park Chan-wook, the Cannes runner-up that won the Grand Prize, has been one of the country's biggest hits.
The ultra-savage flick -- which includes the main character slicing his tongue off and eating a live octopus -- is about a man who is incarcerated and tortured in a hotel room but doesn't know why. It kept critics on the edge of their seats with its twisted narrative and graphic violence.
Tarantino especially was reported to have loved it.
The Best Actor Award went to the 14-year old Yuuya Yagira for his role in Nobody Knows directed by Hirokazu Kore-eda.
Japanese films dazzled too. A quiet human drama about four small children deserted by their mother and left to fend for themselves -- Nobody Knows by Hirokazu Koreeda -- was listed as one of the favorites at the end of the fest and its teenage star Yagira Yuuya was named Best Actor.
"It was the fruit of a whole year of work with these children," said Koreeda on accepting the award on behalf of the boy, now 14 years of age.
Overall winners at the Cannes Film Festival
* Palme d'Or - Fahrenheit 9/11 by Michael Moore
* Grand Prix - Old Boy by Park Chan-wook
* Best Actress - Maggie Cheung in Clean
* Best Actor - Yagira Yuuya in Nobody Knows
* Best Director - Tony Gatlif for Exils
* Best Screenplay - Agnes Jaoui and Jean-Pierre Bacri for Comme une Image
* Jury Prize (tied)
Apichatpong Weerasethakul (director) for Tropical Malady
Irma Hall (actress) in The Ladykillers