A locomotive was unloaded in Kaohsiung yesterday, 25-05-04 as the Taiwan High Speed Rail Corp took delivery of bullet trains from Japan.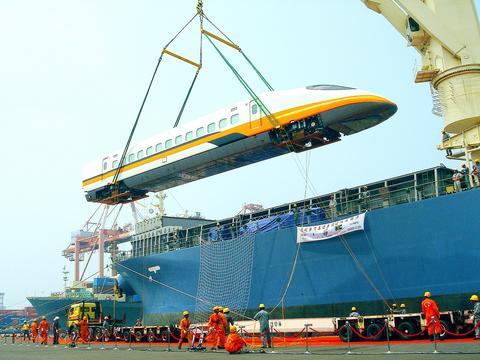 PHOTO: JESSIE HO, TAIPEI TIMES
Esta em decurso a construcao do projecto da 1a linha (Taipei-Kaohsiung) de comboios de alta velocidade da Formosa onde trabalham pessoas de cerca de 20 nacionalidades diferentes.
Com o intuito de oferecer ao povo de Taiwan, um sentimento de que nao estao isolados do resto do mundo, esta noite a empresa Taiwan High Speed Rail Corporation, dona da obra e futura operadora do sistema, vai promover o lado internacional deste projecto.
Assim o 1o comboio ira desfilar pelas ruas da cidade de Kaoshiung, acompanhado pela Directora geral da empresa, Ms. Nita Ing e por representantes de cerca de 20 paises, entre os quais Portugal (so que Portugal nao sabe).