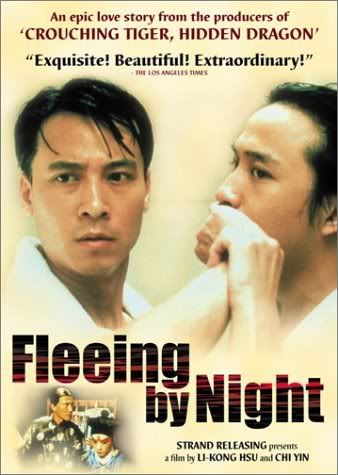 It's the 30's in Nanjing - China, the golden years for the wealthy Chinese bourgeois class.
Wei Ing Er, the daughter of a rich family exchanges correspondence with Shao Dung, the son of banker who is overseas studying in America.
She had a passion for Chinese Opera, he had a passion for music.
With time, this exchange of letters narrowed the distance between them and they become closely bonded.
When a Chinese Opera group arrived in town, Wei Ing Er's father invites them to stay over in his immense house.
Wei Ing Er admires and follows closely the rehearsals and notices the amazing powerful performance and voice of the main actor - Lin Chung - an orphan raised by the opera company's director.
Eventually Shao Dung returns to China with the intention to marry Wei Ing Er.
One night Wei Ing Er invites Shao Dung to the Opera, the night that marked their lives forever.
I just leave with you a glance of some moments of beauty and magic:
The voice of an opera singer freezes the body of a spectator, their love emerges with music and the power of the singer's voice. The spectator in a fraction of seconds is aware of what's happening and it can be seen in his glowing eyes.
A match lights two cigarettes and ignites a voice on a stage composed by the ruins of China's Great Wall.
A loves B and B loves C.
A loves C and C loves B
A respects and accepts the fact that B loves C.
C tries to love B but B is afraid and runs away.
B tries to love A but A says its not possible to pretend to love.
B tries to go after C but its too late.
At the end….
I won't tell you more, this movie is worth it to be seen, and there are no words to transmit the intensity of drama and beauty, of love and sorrow.
Review by David Ehrenstein, New Times:
"In the heart breaking tradition of Farewell to My Concubine, Fleeing By Night is a lush period piece that follows the love triangle of three men against the backdrop of the Chinese opera and wonderfully conveys a universal tale of unrequited love. Written and directed by a producer of both The Wedding Banquet and Crouching Tiger, Hidden Dragon, this film was an official selection of the San Francisco Lesbian and Gay Film Festival and the Los Angeles Lesbian and Gay Film Festival.
One of the most striking films to come out of Asia in recent years, this Chinese epic has everything: romance, history, spectacle and sheer go-for-broke melodrama. Yet, as directed by LI- Kong Hsu and Chi Yin from a screenplay by Hui-Ling Wang and Ming-Xia Wang, Fleeing By Night makes its greatest impression though subtlety. Set primarily in the 1930's, it tells of the unrequited passion of a theater owner's daughter and the cellist who would have been her fiancé for a mesmerizing Chinese opera star who is kept by a wealthy, controlling, yet oddly sympathetic lover."
Movie Type: Drama, Romance,
Director: Li-Kong Hsu and Chi Yin
Cast: Rene Liu as Wei Ying Er
Lei Huang as Hsu Shaodong
Chao-te Yin as Lin Chung
Country: China
Release Date: 2000